Pro Guide Gold Odor Eliminator 5 Star Reviews!!!
Really does work!
Sprayed this on panels from 2008 that I acquired, used before putting in a new carrier. Smell is competently eliminated!
It actually works.
I didn't think this would work but my plate carrier's bad smell is completely gone and this even worked on some pet stains I had on my carpet. It's not just hype, it really works.
Works exactly as promised and is easy to use.

Support families of the Dallas, Texas shootings when you purchase Pro Guide Gold Body Shield Odor Eliminator. We will donate proceeds of each bottle sold to the families with fallen officers in the shootings July 7th, 2016.

This offer will be effective through August 7, 2016.
If you wish not to support the Dallas Fallen Officer fund please order below.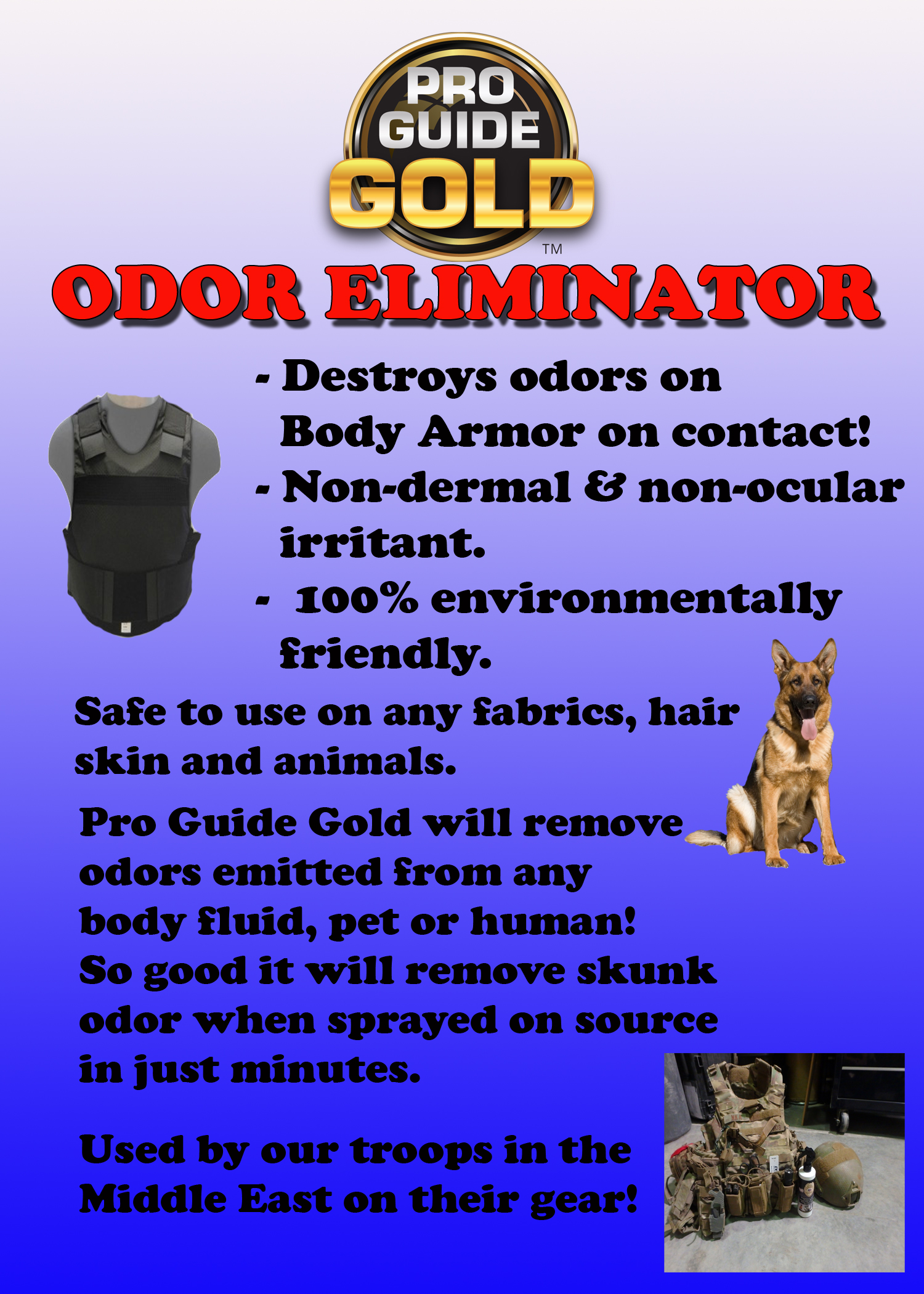 Pro Guide Gold is a true odor eliminator safe on all fabrics, leather, skin, hair and animal fur.
We are in Law Enforcement stores Nationwide providing an odor eliminator used by law enforcement officers, K9 units, in jails, in veicles to remove vomit and urine odors. Used primarily on body armor to remove body odor to make your day by not having the odor poof up into your face every time you sit down.
Pro Guide Gold Body Shield odor eliminator has no fragrance, if it had a fragrance, it would not be a true odor eliminator. Anything with a fragrance is only a masking agent that only hides the odors that will come back as soon as the fragrance wears off. Odors are created when oxygen attaches to odor causing molecules. Pro Guide Gold when applied and touches the molecules it breaks the bonds between oxygen and molecules encapsulating the molecules never allowing oxygen to attach again.
Pro Guide Gold odor eliminator is an non-dermal and non-ocular irritant. If ingested all you need to do is drink water to dilute, no trips to the emergency room.

Safe on al fabrics, leather, skin, hair and animal fur. We even have customers spraying their dogs down after being sprayed by skunks and in minutes teh odor is gone.
Use on your body armor, riot gear, in vehicles to remove vomit and usrine odors. K9 units use to remove K9 odors fast and easy.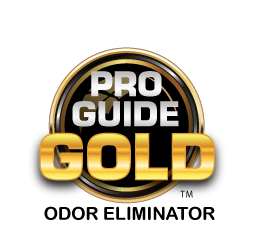 Odor Eliminator hunting scent pet urine odors cigarette smoke